>
Home
Classes
Student recommended websites 

http://www.brainpop.com 
Animated Science, Health, Technology, Math, Social Studies, Arts & Music and English movies, quizzes, activity pages and school homework help for K-12 kids, aligned with state standards.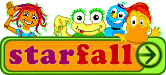 http://www.starfall.com 
Starfall is a free website that teaches children how to read and write in English. Starfall is useful for pre-kindergarten, kindergarten, and second grade. Founded in 2002, the website teaches children how to read by using games and phonics.  

http://www.khanacademy.org 
A free, world-class education for anyone, anywhere. The organization produces micro lectures in the form of YouTube videos. In addition to micro lectures, the organization's website features practice exercises and tools for educators. All resources are available for free to anyone around the world.    

http://www.funbrain.com 
FunBrain is an educational browser game website for children and adults. It was on this site that Diary of a Wimpy Kid was first published before being turned into a successfu book series and movie.